Walk the pilgrim routes of Saint Olav - Information flyer (pdf) 
in May 2010 these routes were granted the certification "Council of Europe Cultural Route"
from the Swedish coast of the Baltic Sea to Trondheim in Norway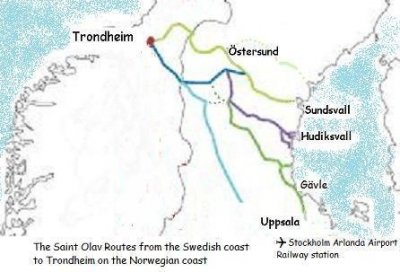 Our vision is to connect the routes from Russia, Finland, Åland, Sweden, Norway,
all the way; Nidaros-Nagu-Novgorod (more on www.nidarosnagunovgorod.n.nu )
using in Sweden the route "Helgonleden" (Route of the Saints)
starting in the province of Uppland, with Uppsala-Gävle-Järvsö-Kårböle-Ljungdalen>Trondheim (Large Map)
A project -  St Olav Waterway, InterReg Central Baltic -  is now working to make the vision come true. www.st-olav.com
Pilgrimstid is working 2016-2019 with digital maps for pilgrims - Helgonleden and Stråsjöleden both in Swedish, but if you follow the links to the map you may chose language, informaton is currently translated to English and German. Example
Have breakfast at home and dinner with us!
Approximately 2-3 hours by train from Stockholm Arlanda Airport
you can start walking with us from the Swedish coast
through farming lands, deep forests, over the high mountains,
down to the Norwegian coast and Trondheim, or Nidaros, city of Saint Olav!
 Links to guided tours, places to visit and where to stay:
Pilgrimstid - guided pilgrimages along the routes (English/Deutsch/Español/Svenska)
Pilgrimstid is one of the partners in the project St Olav Waterway
Hållandsgården - Pilgrim centre, about 2 hours by car from Trondheim! (English/Svenska)
Pilgrim Mitt - pilgrim fellowship in "Mid-Sweden" - provinces of Härjedalen - Ångermanland - Medelpad etc
Helgonleden; Route of the Saints
Kullerbacka Gästhus - on "Helgonleden" (Route of the Saints)
Småströmmarna (mail) - on "Helgonleden" (Route of the Saints)
Skålsjögården - a peaceful place in the deep forests of the province of Hälsingland (English/Deutsch(Svenska)
Selånger- starting point of the Route of Saint Olav (close to Sundsvall)
and other routes from the Swedish coast to Trondheim
Romboleden - www.romboleden.n.nu
Mariagillet - Guild of Mary Society/Verein Mariagilde/Fundacíon de la Hermandad de Maria
Egeria Pilgrim - Follow Saint Olav´s voyage - by train
Pilgrim Centre of Hackås, Route of JämtNorge - site under construction
Catalogue 2013 for European Pilgrimage Routes - Pilgrimstid page 34-35

News on meetings held in Scandinavia and Northern Europe september 2011
News on the Portal of Cammini d´Europa  Meeting held by Nordic Pilgrim Saint Olav February 2011

News on the Portal of Cammini d´Europa  Inauguration of new stage of the Pilgrim Route "Helgonleden", "Route of the Saints"
Nordic Pilgrim Saint Olav on Facebook
2016-09-01/Ea